Top Ten Tuesday is a weekly meme created by the team over at The Broke and The Bookish. This weeks TTT is my favourite books that I have read in the year 2015.
---
I can`t believe the year is nearly over! Time has just flew by without me noticing. This year I have achieved my goodreads challenge to read 50 books! Therefore this was quite a challenge to pick only 10 books out of the 50 books I have read. However these books that I am going to mention might not be the only books that I am going to love because the year has not ended.
 Queen of Shadows by Sarah J. Maas
I really enjoyed this book and I must say that I loved the whole series. I might not have waited long like other people since I only read the whole series this year, but I still loved it!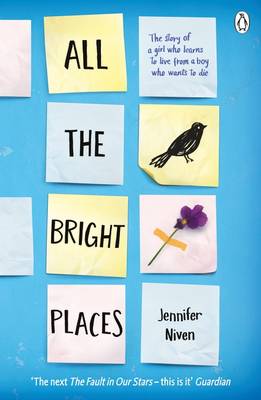 All The Bright Places by Jenifer Niven 
This book threw off guard because I didn`t expect anything like this to happen. The book is based on two teens called Violet and Finch and they meet on top of a building whilst trying to take their own lives.
Eleanor and Park by Rainbow Rowell
Yes I finally read this book in 2015, finally. After seeing many people rave about this book I picked it up and all the hype was right. This book is extraordinary as they say it is. Park is one of my most favourite fictional characters and he is the reason why I love this book. Thank you Rainbow Rowell.
The Queen of The Tearling by Erica Johansen
Oh this book beats every fantasy book I have ever read and it may be on the same level as The Throne of Glass series. It is that wonderful! Here is my review where you can read about my thoughts on it.
To All The Boys I`ve Loved Before by Jenny Han
A sweet fluffy read that will capture you and draw you towards it- I also loved this book (surprisingly). This book is about a girl called Laura Jean who writes letters to all the boys she had loved (hence the title). The story is based on when all the letters get sent out to the boys and the consequences she has to face.
I Capture the Castle by Dodie Smith
I never thought I would love a book like this but I was wrong. This is such a bitter sweet book that tears you apart. This is a classic read that is great for people who want to start reading classics.
A Court of Thorns and Roses by Sarah J. Maas
How could I not mention this book which is written by the Queen of Fantasy herself? If you love fantasy books that includes romance and plot twists, then this is the book for you. Just read it. Please. My heart is breaking.
The Sin Eater`s Daughter by Melinda Salisbury
The Sin Eater`s Daughter left me wanting for more. I need the second book now. I could not believe the plot twist that was so twisty and cunning. The cliff hanger also was…unbelievable. Where is the second book???
The Outsiders by S.E. Hinton
I will leave a link here for my review where you can read about my thoughts and feelings on this book.
The Alchemist by Paulo Coello
I read this book on a whim because a friend recommended it to me but I wasn`t expecting anything from it. I was totally wrong! This book is such a great read because it has some lessons and morals that you will learn in life.
Thank you for reading and I hope you enjoyed my post!
Have a great day! Love Franciska xxx.